Thinking of Buying a Home in Broward County?
If you're considering buying a home in Broward County and would like us to help you, simply fill out the Broward County Home Search form. Using the information you provide, we'll search the MLS and let you know which properties meet your preferences. Once we've set up your home search, we'll alert you whenever a new listing comes on the market.
Whether you're relocating from outside of Broward County, searching for your first home, buying a vacation condo, looking for a luxury waterfront home or simply need to find a pet-friendly condominium to buy, we can assist you. If you have not yet taken the first important step of getting pre-qualified or pre-approved for a home loan, we can help with that, too. Be sure to check out the buyer's guide for resources to school information, mortgage payment calculators, home inspectors, etc.
Of course, you can also search the Broward County MLS for listings of condos and homes for sale on your own and if you find one that suits your needs, let us know so we can set up a showing. As our customer, when you find a property you're interested in, we can assist you throughout the transaction process, from finding just the right home to placing the offer and negotiating the sale price, to all of the details involved prior to closing day.
If you're looking to buy a Broward County short sale home or a foreclosure property we can help you! Many good deals can be found if you are willing to be patient when buying a short sale. Simply let us know your preferences in what you're looking for by completing our Home Wish List form and we'll search the MLS for listings of homes, townhouses, condos throughout Broward County that match your criteria. Our team stays up-to-date on Broward County real estate market conditions and can help you find the best property for your money.

www.BrowardHomesForSale.com
Your Best Source for Broward County Real Estate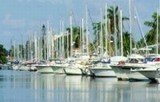 Broward County. . . a great place to live!
Location: Broward County is located in the heart of South Florida and boasts the city of Fort Lauderdale, often referred to as the "Venice of America," as its crown jewel.
Employment: Several major employers have called Broward County home for many years and we continue to attract more and new businesses every year. Among the county's largest employers are the School Board of Broward County, the Fort Lauderdale / Hollywood International Airport and the North Broward Hospital District. The Greater Fort Lauderdale area is also fast emerging as a center for international commerce.
Education: Broward County's public schools are fully accredited and we have the nation's fifth largest school district. Those interested in furthering their education past high school can pick from Nova Southeastern University, Florida Atlantic University and Broward College among other colleges, universities and vocational schools.
Quality of Life: Broward County residents enjoy 23 sun-drenched miles of coastline. Divers can even explore a living coral reef accessible from shore. Outdoor enthusiasts can pick from the many parks & golf courses or go boating on the seemingly endless miles of waterways. There are many attractions and cultural places to pick from.
Shopping & Dining: From the chic shopping areas in downtown Fort Lauderdale to the large shopping malls, there's something for everyone. Eateries of all types also abound and you're likely to find one or more that fulfills what you're craving here in Broward County.
Things to See & Do: New to the area? Check out our comprehensive list of things to do in South Florida including area attractions, museums, shopping and more.
Are You Considering Selling Your Home?
To find out what your Broward County condo, loft, villa, townhouse or home is worth in today's market please fill out our Broward County Property Value form. We'll do the research and present you with a free CMA (comparative market analysis) based on how much properties similar to yours have been selling for in recent months.
When you're ready to put your Broward County home on the market, we utilize many methods to ensure maximum market exposure for your home so that it may sell in the least amount of time and for the best price possible.
As experienced Broward County Realtors, we know how to market homes in a professional manner so that your home is presented the best way possible on the MLS and everywhere else. Take a look at our comprehensive home marketing plan and you'll see how we can make a difference when it comes time to list your condo, villa, townhouse or home for sale.
Do you need to sell your house in order to move but find yourself upside down on your mortgage? We take Broward County short sale listings to help you avoid foreclosure.
Want your home marketed professionally? We know how to market your home to a global audience! Let us show you how we can make a difference when you're ready to sell.
Newsletter: Whether you're getting ready to buy or sell a property, subscribe to our complimentary real estate e-newsletter. It's filled with useful and timely information for both homebuyers and property owners.